Use Cursive Letters In Your Writings For Effective Results
2022-01-12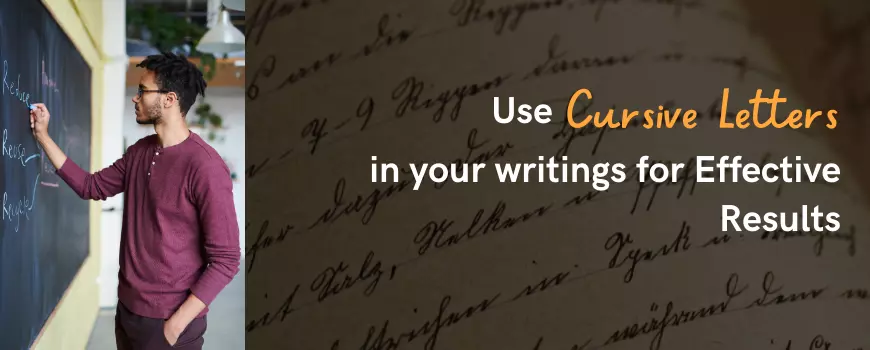 It is said that your handwriting shows your personality, which is true to believe. Remember your old school days when you beautifully started with the formation of capital letters, small letters, and with time you learned how to write without picking your pencils. However, in this digital world, you have not seen your own handwriting for a very long time.
Well, it's the perfect time to pick up your pens and write your next high school assignment or writings in a written format. As you start writing again, your memories of handwriting practices will become green again.
What Is Cursive Handwriting?
Cursive handwriting is done without picking your pens while writing any word. It is a form of writing at a faster speed. The cursive letters are connected to each other. This type of writing is just the opposite of block letter writings. Another name can be script writing or join-up writing which is used by a large number of students.
Why Is Cursive Handwriting Important?
There is no denial that cursive writing enhances the student's creativity. However, writing in cursive alphabets have the following advantages too:
Boost the concentration of child- In cursive writing, we don't lift our pens frequently, and that's where we can express our thoughts in a smooth flow. Once we start to write with a good idea, there is no looking back. So, it indirectly improves the concentration level.
Your speed of writing becomes faster as you will write continuously. This will reduce the time of your writings.
Chances of higher marks - Extra marks for good handwriting, once in a while, you must have listened to this from your teachers during your school time. Well, now we know that was not purely true, but it improves your writings for sure. Good handwriting puts a positive impression on your teachers.
Here is the examples of cursive writing. By this, you will come to know that how beautiful cursive handwriting looks. It gives a new shape to your whole write-up.
"The most beautiful thing, in life is to see a person you love smiling.
And even more beautiful is that you are the reason behind it."
How To Write In Cursive Letters Format?
As a student, you must have learned how to write cursive letters. But, your confidence in your handwriting has faded with the technology you used. By the end of this blog, you will be able to brush up on all your learning again. If it's not for you, then you must help your younger siblings or children in their writings. So, here is the step by step guide to write in cursive.
Start With Cursive Capital Letters
Every word is written with the help of letters so before jumping to the whole writing, first, know well how to write cursive alphabets. There are several ways by which you can clear your hands-on writing; however, using a pen and paper is still top the list.
Lowercase Letters In Cursive
If you are in the habit of writing in capital letters, then you should first start with baby steps. Try and practice to make the simplest alphabet, i.e., 'u. 'Most of the letters are made from single strokes; hence they can be easy to write. Then try some other letters like k, b, f; they are a bit complex compared to a single stroke. Once you are done with them, you can also write curve letters like a and g.
Uppercase In Cursive
The first letter of every word is in uppercase in cursive writing too. So, it's important to learn how to write capital cursive letters to enhance your writeup. First focus on c, l, and o, then slowly and gradually move to others alphabets.
Choose A Particular Font
Choosing a font is unnecessary, but you can be more specific about your writings if you do so. You can select the fonts like Allura, blackjack, hummingbird, and many more of your choice.
Don't Forget To Practice On A Regular Basis
Spend a little time but practice daily for a few days if you want to grab the writing skills. The more you practice, the quicker you will be able to acquire the style.
Cursive Writing Tips
Following some tips and tricks can make your work easier. Here are some suggestions for your cursive writing:
While joining the letters, please keep it clean and clear to understand it properly.
Practice by tracing the alphabet. You can buy cursive writing practice books, too, if needed.
Set a time for yourself and stick to it daily.
First, focus on lowercase letters and then on the uppercase ones.
Don't do overwriting. Take adequate time to practice and write beautifully.
Make use of lined paper for effective writing.
Keep a record of all your practice sheets and compare your performance later.
Practice by making drafts for your work, and then you can update them on a word document.
What Are The Types Of Cursive Alphabets In English
All the types of cursive writing are more or less the same. We can classify them into four broad categories:
New American cursive - In this writing, the alphabets are slightly towards the right side of the page.
D' nealian handwriting - This type of writing is done for non - stop strokes in which the hook of the tail of one alphabet is linked to the tail of another.
Zane - bloser - This is a combination of the above styles. It also includes simplified capital letters.
Hand-writing without tears - There is less continuous flow while writing and is widely used by teachers to teach how to write letters in cursive to small kids.
There can be different styles of writing depending on the font, but it's you who have to choose the best for yourself. Your handwriting remains the same for a lifetime, so it's better to take cursive help from the best expert as soon as possible.
Leave a Reply
Your email address will not be published. Required fields are marked *