Interesting Commemorative Speech Topics
2022-08-19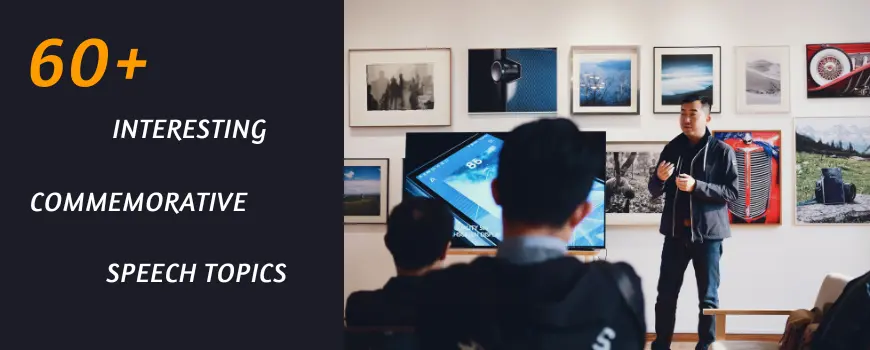 A Commemorative speech is given in remembrance of someone, a group of people, an organisation, or in recognition of a past occasion. A speech of this nature must be significant, respectful, and polite. You have the power to entice your audience by giving this speech. You want to feel seen and heard by your audience. These speeches might be emotionally charged at times, or they can be packed with knowledge, inspiration or optimism. Since a commemorative speech emphasises celebrating achievements, it is critical to select a theme that is appropriate. As you consider your speech topic, consider the effect it had on both you and the audience. If you are still unsure, use assignment help to find the right topics for your speech.
Some Good Commemorative Speech Topics
Honour a parent, sibling, or co-worker.
Honouring an influential person.
The tenacity required to prevail at a major sporting event.
Civil rights movement memorial.
The importance of humility in egocentric society.
Recognising Buddhist principles (or other religion)
What is freedom for you and how to manifest it?
Inspirational and effective cases of environmental activism.
Simple Commemorative Speech Examples
A commemorative speech may fall into several categories. Common commemorative speech examples are:
Honour
Bravery
Kindness
Success
Perseverance
Inspiration
Empowerment
How Do You Write A Ceremonial Speech Example?
The introductory speech
The Presentation Speech
Acceptance speech
The Address at the Graduation.
The eulogy speech.
The Memorial (Special Form of Speech of Tribute).
The Post-Dinner Remarks
What Are Some Ceremonial Speech Topics?
Welcome or introductory speech:
Current or former president of the United States.
A well-known basket baller (football, baseball, soccer, tennis, etc)
Speeches during roasts and toasts:
Marriage anniversary toast
A phoney toast made after drinking
Athlete who received a recognition award
Speech on award ceremonies:
Interesting Commemorative Speech Ideas
Compromises you made that demonstrated your growth as a person.
Tenacity of purpose (in a historical figure or living person).
Kindness as it has been demonstrated to you or by a famous person in the past
Darwin's search for the truth in spite of his blasphemy fears.
Visionaries (Jules Verne).
The World Health Organisation has put improvements into effect.
Television broadcasts of inspiring events.
Sample Commemorative Speech
Choose a topic in lieu of occasion.
What is the purpose of selecting this topic?
Select your theme.
Mention sources that you are using for ideas or quotations.
Start composing your speech or give examples of phrases or words that you will use to illustrate the concepts.
Commemorative Speech Definition
Addresses of praise, homage, or celebration are referred to as commemorative speeches. Commemorative speeches honour a person, family, organisation, object and any occasion. Its main goal is to uplift the audience and increase their admiration.
The use of language must be both inventive and subtle. Commemorative talks have become some of the most enduring speeches in history because of their expressive delivery.
Funny Commemorative Speech Examples
Charlie Chaplin's importance in the field of comedy.
When I went down the stairs and fell.
Mr. Bean's contribution to creating happiness in the world.
Honouring the fun-loving and imaginative geniuses behind the Cartoon Network shows.
Celebrating SpongeBob's contribution to humour.
The story of first love and how it went?
Popular Commemorative Speech Topics List
Honour soldiers who gave their life in defence of the nation.
Beliefs influenced by television programmes.
A well-known blogger deserves respect for fighting for society.
Mars Mission by NASA.
A best friend who stood through thick and thin.
How Nelson Mandela changed world history?
Neil Armstrong's contribution to the moon's discovery.
Commemorative Speech Topics For College
Historical successes in the fight against tuberculosis.
How is tenacity important to achieve victory in sports competition?
Parental commitment in raising a kid.
How does hope help students to live a purposeful life?
How does fighting against illiteracy affect the human race?
The greatest artist in human history.
First Class Topics For Commemorative Speech
Random acts that impact lives globally.
How principles influence people?
Role of the UN in missions to promote peace.
Paying respect to the LGBT rights movement.
Brave acts during terrorist strikes.
Social networking became a reality with the creation of Facebook.
Travelling with friends versus vacationing with your parents.
How have you changed intellectually, spiritually, and ethically after starting college or university?
What Are Commemorative Speech Outlines?
Grab your audience's attention by sharing a fascinating story or an anecdote.
Use an inspiring quote or a metaphor.
Keep your audience engaged and active by asking them a question.
Showcasing an intriguing fact is a proven approach to get people's attention.
Humour is the key to keep the audience's attention and focus on your speech.
Imagine a situation in your head and then visualise it.
Your opening sentence should be bold as it will tie your audience.
Best Commemorative Speech Topics
Successful people who worked hard.
Establishment of social media (Facebook).
Examples of independent thinking (Noam Chomsky, Charles Bukowski).
Values and way of life of vanished populations (native Indians, Maya).
An earthquake that caused a significant global catastrophe.
Remembering the victims of a shooting spree.
Commemorative Speech Topics For College Students
A breakthrough that transformed your outlook on life.
Learn about values and virtues from George Washington's life.
Honouring the medical professionals who valiantly fought against coronavirus pandemic.
Keeping in mind to support crusaders working to end the slave trade.
A case study of the World Cup champions illustrates the importance of teamwork.
Showing off the enormous advancements made by the World Health Organisations.
The value of the first printing press to the world.
People who exemplified the value of resilience.
Leave a Reply
Your email address will not be published. Required fields are marked *