Introduction To Persuasive Speech Topics
2022-01-12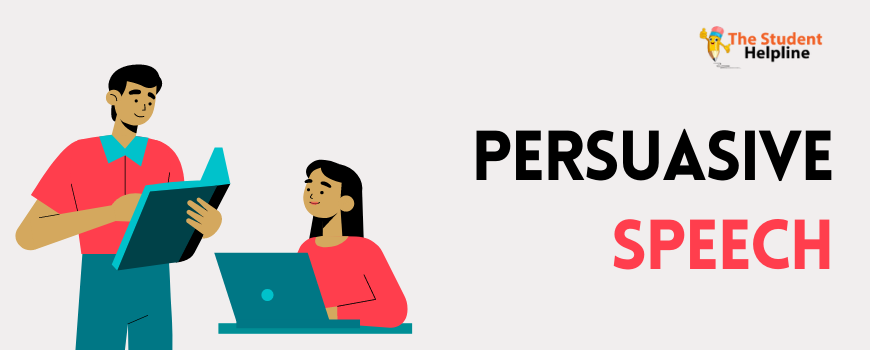 Are you looking for someone to peel back the curtain for selecting the best suitable topic and make you prepare for your next speech? Well, if you are sinking in the same trouble of delivering your speech effectively and efficiently, then you are at the right place. Selecting a topic that is not cliche and boring is a challenging task, but why scratch your heads when you can do it easily by taking assignment writing help within zero hours.
By the end of this blog, you will become a pro in delivering your speech, and we will make you familiar with the persuasive speech outlines in the most effective manner.
What Is Persuasive Speech?
In layman language, it is a type of speech in which the speaker has to convince their listeners with their point of view. The primary purpose of delivering or writing such a speech is to motivate and educate the listener about your selected topic. However, it's challenging to have a single viewpoint from each audience member; some of the others will always have a different perspective.
How To Select The Best Persuasive Speech Topics
You feel stressed at the first step only as selecting the best suitable topic is a major endeavour, and you have to look into different parameters before choosing. Your topic should have a clear understanding and be thought-provoking to attract more audiences. Here are the ways to select the best topics for persuasive speech:
Make it interesting and engaging for your target audience
Speak to the subject of your interest and field.
Follow all the guidelines and instructions.
It's always better to choose topics that can connect with your audience emotionally.
Persuasive Speech Topics For College Students
Every student dreams of having excellent grades in their academic essays, and selecting the topic from below can help you achieve your incredible grades. So, let's break them out to you:
The tuition fees should be reduced for each semester.
How to promote other activities on the college campus?
Can students complete their education from distance learning?
Is taking gaps and preparing for exams can be beneficial?
How to apply for your dream job?
Ways to achieve success and achievements
How to pursue part-time jobs along with your studies?
Which is more important, following a passion or doing academics?
How to cope up with other activities with academics?
How to become a multi-tasker while doing studies
How is the classroom environment important for a student?
What's better doing a startup or doing a job at a reputed company
Good Persuasive Speech Topics
It might be possible that you have to deliver your speech at a professional level where you work. There college topics won't work the best. You have to choose more appropriate and relevant topics beyond careers and jobs. Some of the most current persuasive speech topics are mentioned below :
How to be physically fit with a busy schedule?
How to maintain a healthy work-life balance?
How to get satisfaction from your current position?
Should social media be banned?
Can technology replace human resources?
How to do meditation for a peaceful mind?
Why are tattoos considered unprofessional?
How book changes someone's perspective?
What are the main reasons for suicide?
Should the minimum wage rate be increased?
What's better - working from home or office?
Should the voting age be lowered?
Is having alcohol destroy our health?
Is it necessary to get married at a specific age only?
Can working on alternative days increase the productivity of employees?
How are e-commerce platforms taking the place of traditional stores?
Some Frequently Asked Questions
How Many Types Of Persuasive speeches Are There?
Persuasive speech can be divided into three broad categories. They are the following:
Policy persuasive speech
Value-based persuasive speech
Factual persuasive speech.
How To Get Persuasive Speeches Ideas?
You can get your ideas by doing simple exercises, like reading a magazine article or a newspaper. Go and explore the internet and do your research. You can also see some you-tube videos to enhance your knowledge. As a writer or speaker, you may get stuck somewhere between your writing, which leads to writer's block. In that case, go and do some of your hobbies to refresh your mind. Walking in a green park can also help you in getting a unique persuasive speech topic.
What Are Some Funny Persuasive Speech Topics?
To gain the attention of your audience, the best way is to choose a funny topic for your speech. Have a look at the following topics:
If things do not go your way, blame the horoscope.
Chicken or egg? Still a question of suspense which comes first?
Why do girls gossip more than boys?
Why are kids always curious about knowing things in detail?
Your facial expressions will not allow you to speak a lie.
Writing your to-do list is always better than forgetting them.
You can become as sweet as chocolate by your kind behaviour
One should get a vacation of 6 months twice a year
Your 'I will do this tomorrow' will never come
One should marry at their risks
Well, the list can go on for long, but you can't afford to sit with your folded arms and look at the list only. Your content is waiting for you, so go and give your best shot without delaying the next moment.
Do what works best for you like most professional experts complete their tasks within the blink of an eye.
Leave a Reply
Your email address will not be published. Required fields are marked *