How To Write A Reference For Someone In English
2022-01-04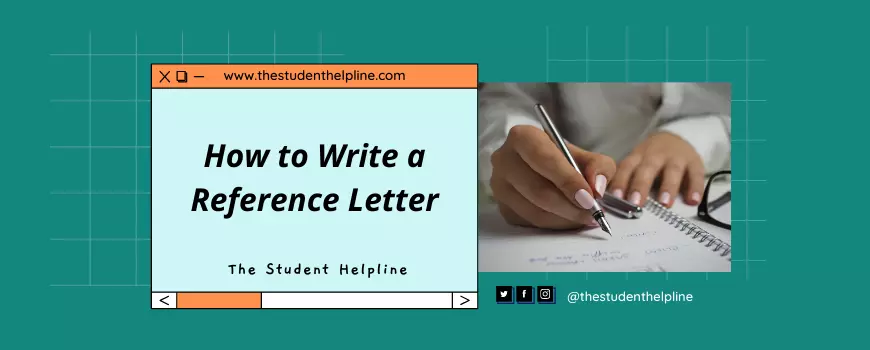 Have you ever experienced an incident where you are responsible for someone's career or future? If you have, my deepest condolences. Owning your responsibilities is one thing but living up to someone else's expectations is a thing from a different parallel universe.
You are dreading the deadlines your boss has assigned. There is a never-ending list of things that you have to do this weekend. But when the weekend arrives, you fire up your laptop and there is an email from a co-worker or a friend. They have bestowed upon you the privilege to write a reference letter for their next job or up-gradation in the existing title. This will either bring them a step closer to their dreams or four steps back in the dungeon. You can't say no but you don't know what to say or how to start. Well, lock the worries away because I have got your back. Let's get that person the job he/she deserves.
What Is A Formal Reference Letter?
A formal reference letter is a letter that states the strong suits and personality traits of the concerned person. It is written while you are in the middle of the process of seeking employment or securing a scholarship abroad.
Before drafting an official letter, you need to gather every bit of information on that person. This will help you to add a personal touch to the letter. Although the format is formal, the facts can demonstrate minimal personal references. This increases the chances of selection. These points must be kept in mind to write one of the best formal reference letters.
Address
Suitable opening line
Introduce your relationship with the concerned person
Qualifications and experience
Closing with proper salutations
Types Of Reference Letters
A reference letter (also known as the statement of service, recommendation letter, or character reference) is a formal write-up listing the academic and personal achievements of a person's life. It can be used for employment or educational purposes. These letters can be categorized into 4 types:
Professional Reference Letter

This is used as an employer reference. You have to list the soft as well as hard skills of the concerned person. You can describe their work relationship with yourself which highlights their strengths and work ethics. State the qualities that will add to the plus points of the person.

Personal Reference Letter

This is written to showcase the character of the person to clear the immigration process. You need to add moral values and personality traits to increase their chances for the desired process.

Academic Reference Letter

It is written for higher education purposes or to avail the benefits of scholarships. You need to put in academic qualifications, career goals, and aptitude.

Rental Reference Letter

This is drafted with the purpose of giving an idea of the tenant reference letter layout. Put them in limelight by stating their ability to pay the rent on time.
How To Draft A Reference Letter Sample?
Writing a reference letter can be difficult. It is a personalized experience for both the writer and receiver. They have to cover all the important topics and characteristics of the reference letter. Here's the attached template for a job recommendation.
John
January 3, 2022
xyz
The Education World
Abbotsford House, Abbotsford 21, 26 and 30 Euroka Street,
North Sydney 62 Church Street, Balmain
Dear xyz,
Ava has worked with me for the past 3 years. She started off as a content writer. As the company became familiar with her potential, she was promoted to the role of editor. Within a year, she showed tremendous personal as well as professional growth in our firm. Currently, she is managing a team of 10 interns who are showing daily improvements under her guidance.
Her dedication and willingness to adjust to long work hours in order to deliver before the deadlines are commendable. Values like teamwork and leadership were persistent throughout her journey at The Learning Way.
I highly recommend Ava for your content editor position. This position demands flexible time schedules with an extraordinary display of writing skills and Ava displays it all. She has amazing interpersonal skills which make her cooperative as well as fun to work with. Each word in her write-up is chosen after careful consideration. All these traits are exhibited flawlessly even under extreme pressure.
We will surely miss the presence of Shreya on our team but this is her path of growth. You can contact me with any further questions.
Best regards
xyz
Reference Letter Examples
There are several places where the letter of recommendation plays a significant role. You have to add a personalized touch to each letter so that the reader can feel your attachment with the concerned person. Here are some examples to give you a broader understanding of the concept of reference letters.
For employment purposes: Suppose your assistant sales manager is moving to another state due to personal reasons. He is well-qualified and possesses every trait to go for the promotion at his next company. But he needs a letter of recommendation from you as his previous boss. You need to draft a formal letter which states every career achievement. Jot down his ability to work hard, great set of communication skills, and leadership qualities. Illustrate and back these up with suitable examples from your personal experience. This will increase the credibility of the letter.


For educational purposes: Your student wants to pursue an international scholarship program. Even with her extraordinary academic capabilities, your letter will be necessary. It will play a major role in determining her enrollment in that program. You have to make sure to cover all the necessary bases with respect to the given scholarship. Mention her internships and eagerness to learn about the subject. State all the academic achievements and qualifications. Also, add some classroom experiences too.
What Is The Difference Between SOP And LOR
| | |
| --- | --- |
| SOP | LOR |
| A person writes his own SOP. | LOR is written by someone else. |
| It is used when the candidate desires to go out and study in a foreign university. | It can be used for both educational and employment purposes. |
| An SOP states your career goals and academic qualifications. | It describes the person writing the LOR and then your value in the firm. |
| It states that why the particular university and country is chosen by the student. | It covers all the aspects of soft and hard skills. |
| Write your own point of view and give it a personal touch. | Written by someone who is connected with you on a professional level but shares a personal bond with you in regards to classroom or an office. |
The Student Helpline offers services like SOP writing help and LOR help at affordable rates. They ensure quality delivery with each client's personal requirements for customization. This is one of the important decisions of a student's or employer's life. So, trust the best writing service in town to secure a better future.
Leave a Reply
Your email address will not be published. Required fields are marked *