What Can Students Do After Completing Graduation
2022-06-11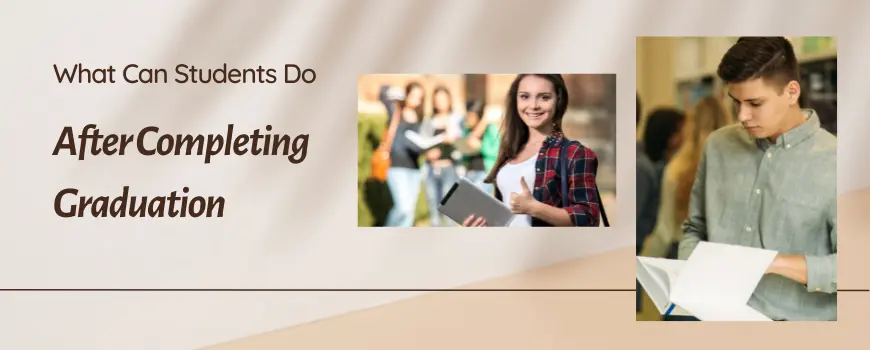 Every year a significant number of students move to different parts of the world for their higher studies. However, most of the students move to Australia for their higher education owing to the education standard of Australia as it is considered as one of the best education destination in the world. However, there are various options available in the Australia after completing the higher education. Following are the some options.
Students can pursue their further studies.
Students can get various kinds of jobs in Australia.
Students can travel across the Australia after completing the graduation.
Students can enhance their skills like they can learn a new language.
They can start their business as well in Australia.
Students can apply for research; hence they can apply for research visa in Australia.
However, they need to extent their student s visa so that they can continue their studies in Australia. Apart from that they can also apply in for working holiday's visa.
How Can Students Search A Job In Australia After Completing Graduation?
After completing the higher studies, most students start the process of job search, but students do not know the appropriate way to apply for the jobs. Following are some ways to get jobs in Australia.
Students can get jobs through multiple mediums like job portals, consultancy and other mediums.
There are multiple kinds of jobs available in Australia like retail, tutoring and hospitality.
There are many freelancing jobs available in Australia.
What Are The Eligibility Criteria For The International Students?
The students who are in the final year of higher studies require a job to accommodate their livelihood in Australia when they plan to continue any job or studies in Australia. Following are the eligibility criteria for the international students.
You should have student visa to study in Australia.
Proficiency in English language is also one of the eligibility criteria.
Age should not be more than 50 years.
Qualification of CRICOS is also mandatory for the international students.
Why Do Students Choose Australia For Higher Education?
Deciding for higher studies in Australia is one of the dreams for the students but students from across the world apply every year in great numbers. In order to study in Australia, many students from different educational backgrounds apply in different courses but at the same time they hesitate to move because of some reasons like how will Australians cooperate with us, will we be able cope up with their culture, ethnicity and language. Most students go to Australia from different countries so their language and culture are distinct from each other. Here are some reasons which will give an insight on this issue.
Top class universities: Australia has various world class universities in the world. Apart from that most universities gives different scholarship to various category students.
Diversity of culture: Although the students come from different countries and different cultures that is why working together takes time, however, with the passage of time, all of them accustomed to work together in organisations. In addition to this, students get an opportunity to learn multiple languages because they live among the students of different cultural backgrounds.
All the disciplines are accepted: Australia has numerous universities and colleges so they have almost all the streams of education that is why most students can get chance to get admission in Australian universities. These universities have all the disciplines like art, science, law, management and other vocational courses like journalism and mass communication, fashion technology, diploma in diet and nutrition, diploma in jewellery and accessory and professional diploma in boutique management.
Natural beauty of Australia: As Australia has different terrain like Great Dividing Range, Great Barrier Reef and the Great Australian Bight.
Ease in getting study visa: Students can get student visa easily for Australia. The student's visa is known as subclass 500 which designed for the international students for the study purpose. Apart from this, students need to get insured before moving to Australia.
Internship: There are many universities which offer internship programme to the international students as well as a job after completing the internship programme.
Amazing city: Most students like Australia because most universities are located in different natural places which enhance the beauty of the universities.
Compatible communication: As Australia is an English speaking country so establishing communication with Australian people is very easy.
Huge work opportunity: Australia has various job opportunities because they have multiple industries, manufacturing companies and other organisations where students can get jobs after completing their graduation.
How Can Students Apply For Master's Or Ph.D Program In Australia?
Every year many students across the world apply for the masters or PhD program in Australia because the standard of education in Australia is high and the culture and the welcoming environment of Australian people is commendable. Apart from this, the research program of Australian universities is very good because these universities spend a lot at research programmes.
Following are the criteria to get admission in research program in Australia.
Proof of undergraduate as well as post-graduation needed.
The minimum requirement of 6.5 in IELTS English examination.
Your resume.
Your passport.
There are some universities which take interviews before giving you he admission in their universities.
Proof of health insurance is also compulsory for the students for getting admission in these universities.
What Are The Prerequisites Before Heading To Foreign Universities?
Students need to know various things before moving to any university for the further studies. Following are the points.
Identify you subject in which you are interested to get admission.
Are you able to bear all the expenses of foreign countries?
Will I get the desired job in that country?
Do you have kinship with any one in that country?
Can I adjust with different culture people?
Would I be safe in that country?
Moreover, students need assignment help agencies to get their task completed before the deadline.
Leave a Reply
Your email address will not be published. Required fields are marked *