Absolutely Stunning Marketing Dissertation Topics For This Year
2022-07-03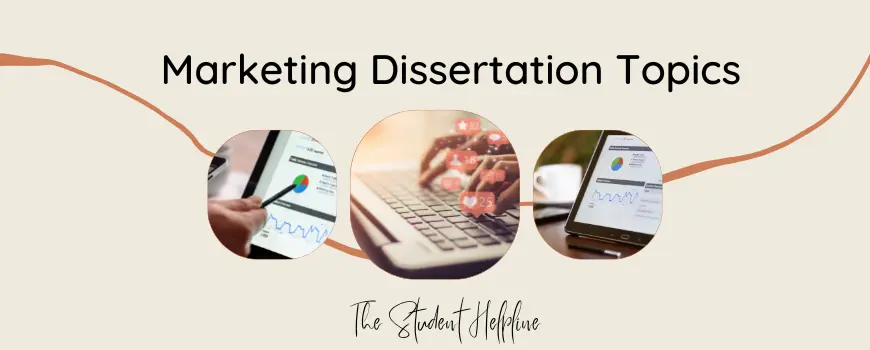 Writing marketing research is not so easy and interesting as it may look while studying books on it or listening to lectures. One may be astonished to learn that latest marketing topics are not taught at colleges but are to be explored and observed by following the latest news and updates, they can even search on internet follow marketing pages and news portals to get updated for latest trends and developments in marketing area.
Some of the trendy topics are mentioned below:
Marketing and Company Reputation strategies
Best social Media strategies to Drive customers
Analysis of social media marketing Impact on customer Behaviour
Relationship between brand awareness and purchases
Marketing strategy and corporate social responsibility
Online shopping trends
Consumer Behaviour: Factors that Drive Convergence and Divergence
Does Brand Experience affect consumers purchasing decisions
Building a company Brand Image through guest blogging
The best platform for B2B Marketing
Unethical Company Behaviour Effect on Brand attachment?
Building Brand equity by marketing
Role of email marketing in improving Customer Retention Rates
How To Search Marketing Dissertation Topics Examples?
Students can search for the marketing dissertation topic examples on various assignment providing services. They can also go through some of the previous topics in the college repository and evaluate if there has been any recent changes in them. To submit a dissertation as part of degree or PhD programme on marketing topics like:
Branding,
Link Marketing,
Wire/Automated Marketing,
Retailing Concepts, or any other element of marketing may be some topics of marketing dissertation. Students frequently struggle to select the ideal dissertation topic for their marketing course. As a result, as a result it is advised to select the most recent reading resources which they can utilise to write their marketing dissertation to help them to get started with topic ideas.
How Experts Choose Topics For Marketing Dissertation?
The field of marketing is large and fascinating, entwining with disciplines like anthropology, sociology, psychology, and business. Therefore experts with their years of experience in writing do it in an instant. A dissertation can be challenging at first because it calls for much independent research. In marketing dissertation, the student should demonstrate their capacity for critical and analytical thought. they must perform in-depth research for their marketing dissertation and provide supporting evidence for each assertion they make. To deliver a flawlessly written marketing dissertation, start by selecting a subject that actually interests them. This will help them comprehend and clearly articulate their points. They should, however, be sure that the subject they choose will be able to contribute to their future in terms of career factors. They might look for marketing-related topic ideas in current events, scholarly publications, and academic journals.
The field of marketing is constantly evolving, so whether an individual is graduate or undergraduate student studying it, there are many "gaps" in the literature that need to be filled. This page provides topics for marketing dissertations that one can use as the basis to study and help them write a marketing dissertation. A few of these subjects include:
Relationship Marketing,
Branding
Direct Marketing
International Marketing (Including Influencer Marketing)
Consumer Psychology
Social Listening
Online Marketing
Mobile Marketing
Marketing Mix
Social Networks And
Marketing Ethics.
How Difficult Is Marketing Dissertation Writing?
Even someone who has successfully drafted countless official documents in the past shouldn't be surprised that it's difficult. A very different experience, writing a marketing dissertation requires independent research. Professors set deadlines or assigns duties to the students. They must work alone to complete a substantial article that demonstrates their ability to critically analyse and synthesise the challenging information. Many students, especially those who struggle with time management, find this procedure to be frightening.
In fact, success depends on having a plan and sticking to it. As a result, students should break the writing process down into manageable, straightforward pieces. Marketing program's culminating project is a dissertation so students need to conduct unique research based on the body of marketing literature in order to finish it successfully. the objective is to provide something fresh to the academic literature on the given subject.
The first step is to choose the subject you want to write about. Even though a marketing dissertation requires a lot of work, picking up a topic one is are passionate about, will enable them more likely to enjoy the writing process. However, it goes without saying that one should make sure it is pertinent to the course they have taken, as well as the expectations of youth their professors and supervisor. Additionally, you ought to consider a subject that will benefit their future. For example, if a student is interested in digital marketing, they may select a topic related to influencer marketing, using AI or social media marketing.
Developing A Research Question For Dissertation For Marketing
As mentioned before, a dissertation in marketing is an academic paper where students need to theoretically analyse the existing literature and identify the gap in the existing knowledge. Then they have to develop a research question and try to answer it by critically analysing both primary and secondary sources.
Primary sources are actually data that researcher gather while doing a research.
Secondary sources are theories and data produced by other scholars. Scholars can use them as evidence to support their own ideas.
One should read a lot on the topic they have selected, creating several hypotheses. Then should discuss them with their supervisor and narrow them down to the single main hypothesis. After that, students need to create several research questions that will guide their reading. Finally, they may develop a single simple question and make an attempt to find an answer to it in their dissertation in marketing. To do that, students need to read a lot of scholarly books and peer-reviewed journal articles. While reading students should take notes of the interesting ideas, useful links, and relevant resources that they come across. After finishing their research and gather enough material, they can create an outline of future dissertation in marketing and think about its structure.
Besides, students need to create and submit a research proposal that typically includes such elements as the working title, introduction, research question, hypothesis, literature review, detailed methodology, and the timetable for intended research. This important document will help them to stay focused on their research objectives and will serve as a road map for the entire writing process.
Leave a Reply
Your email address will not be published. Required fields are marked *