What Is The OSI Reference Model
2022-03-28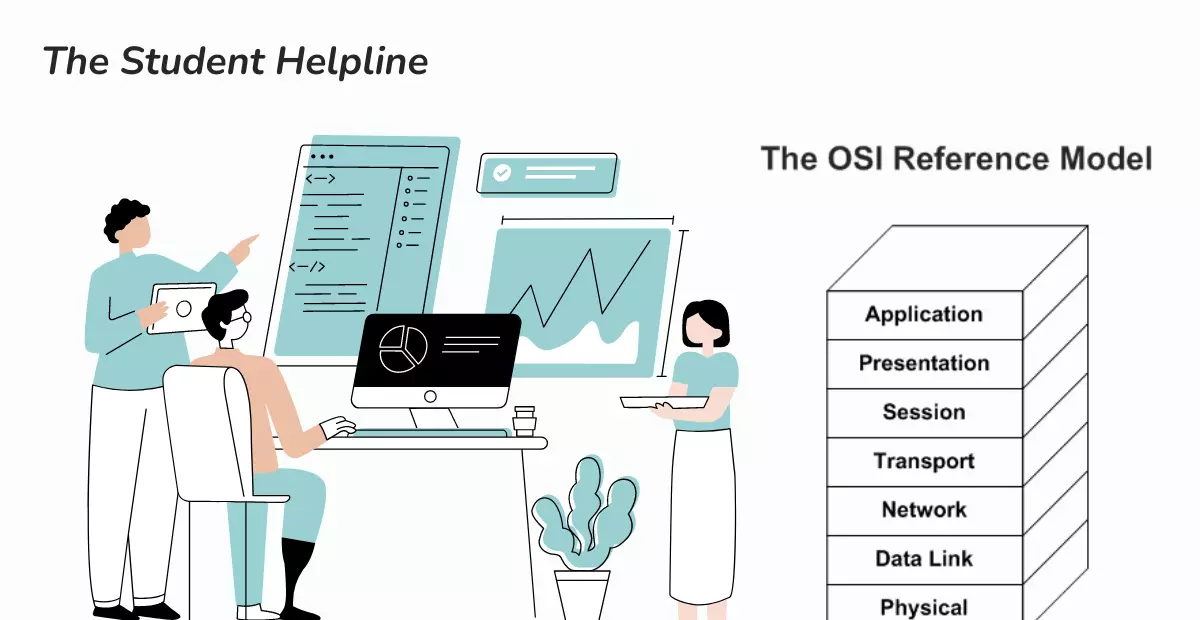 There are n users on the computer network who are spread across the globe. As a result, national and international data transmission systems must be designed that are interoperable with one another.
The International Organization for Standardization (ISO) developed the open systems interconnection (OSI) model, which allows different communication systems to communicate via standard protocols. In layman's terms, the OSI establishes a standard for computer systems to communicate with one another.
The OSI Model can be thought of as a universal computer networking language. It's based on the idea of breaking down a communication system into seven abstract layers that are piled on top of each other.
The OSI Model is still very useful for debugging network problems; even if the modern Internet does not fully follow it (it instead follows the simpler Internet protocol). The OSI Model can assist break down a problem and find the cause of the trouble, whether it's one individual who can't get their laptop online or a web site that's down for thousands of users. A lot of unneeded work can be avoided if the problem can be focused down to one specific layer of the model.
Human-readable data must go down the seven layers of the OSI Model on the sending device and then up the seven layers on the receiving end in order to be exchanged over a network from one device to another.
Since its introduction in 1984, the Open Systems Interconnection (OSI) reference model has served as the most basic parts of computer networking. The OSI Reference Model is based on an International Standards Organization proposal (ISO).
When computer networking began, technology suppliers started business networking to help their business.
This model was not open to another vendor who was associated with other supplier groups, that is why this model could not perform well.
Developers and technology service providers can get an idea from the OSI reference model. For example, a laptop manufactured by HCL will only communicate with those laptops that are manufactured by HCL only.
It was created to allow all the networking systems to work collectively so that software developers can create a common platform so that they can create a product that can work for all kinds of computers.
OSI reference model is useful for network administrators in deciding what kind of hardware and software they need to develop for the future's perspective.
This model is very useful for hardware manufacturing companies which want to produce network related items that can have good communication over the entire network.
This technology is very useful for making the unorganized technology into an organized technology.
It is also useful in troubleshooting.
Open systems interconnection model is a model that tells the dynamism of the information among all the computers through their software. It is a seven layered computer networking model. It is used as a new kind of model for upgrading the old one.
Many models are available before the network engineers like TCP and IP but OSI model is one of the fundamentals for all the network engineers.
The OSI model can be implemented to understand TCP and IP models.
Nowadays, TCP and IP models are more general than OSI models.
Any kind of threat can be identified with the help of the OSI model.
Information technology experts often use this model for troubleshooting any technical issue.
It is also used for data categorisation of different organizations with the help of layers of the model.
It can be helpful in identifying those areas where the risk of data security is available with the network.
This model is also very useful when you use cloud computing, as everyone knows that everyone is transferring their data on cloud because it can save your data from loss but at the same time it has some drawbacks as well, so here, OSI model can be very useful for identifying the threat and at the same time it can also help as to which kind of cloud service would be better for your need.
How Can The OSI Reference Model Helper Support You?
There are various OSI reference model helpers available in Australia for developing the dedicated reference model and you can make your computers able to communicate with other computers that are not manufactured from the same source.
This model has become a boon for these information technology companies because these companies were facing challenges when they used to get networks of other computers.
How Can You Take Help Of OSI Reference Writing Services?
Many writing service agencies are available in Australia where you can go and ask for the services. Nowadays these companies are more interested in these kinds of services because they do not know how to write OSI references for their company but since this referencing model came in effect companies have got freedom to connect their network with any other computer network that is not manufactured by the same company.
How Can OSI Reference Experts In Australia Can Help Your Organization?
Nowadays most organizations want to be technologically advanced, for that purpose; these companies require help of OSI reference experts for upgrading their old technology with new ones. In this way these organizations can build their new strategies and this can also be helpful in choosing a better cloud system for their organization.
Nowadays most organizations are adopting new technologies for their better growth, that is why these organizations are using OSI reference model to identify their security breach, this is how the role of referencing helper online comes forth in the picture and those organizations want to get these services can search online as do my assignment will get various assignment writing service providers at a reasonable cost.
Leave a Reply
Your email address will not be published. Required fields are marked *