What Is Dialogic Reading
2022-05-28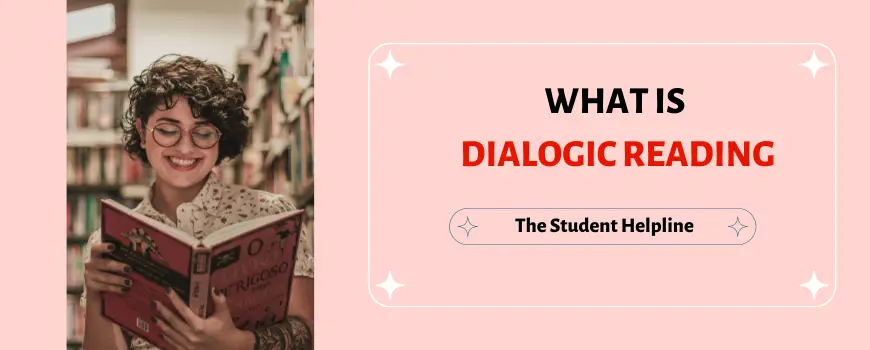 It is a kind of conversation between children and adults about a book. This form of reading is most preferred by the students because it is a kind of active reading in which students actively participate. It can be very useful for children's growth. It is also useful for language improvement. With the help of dialogic reading, one can improve their reading skills and vocabulary skills quickly. In case, children face difficulty in understanding any word, you as teacher, can help them by using a dictionary so that they can easily understand the content.
Dialogic reading plays a significant role in cognitive development and it has also been proven that cognitive reading is very crucial for the development of children's brains.
Dialogic reading definition in other words is, having a dialogue with your students about the reading they are indulged in. Dialogue between students and teachers helps students in developing their understanding on the topic more deeply.
What Are Dialogic Reading Strategies?
Dialogic reading strategy is used to develop language and dictionary skills. Most of the students do not have enough knowledge of diction. Dialogic reading strategy is useful for increasing the knowledge of students about a topic. These strategies are helpful for increasing the vocabulary skills as well as reading skills simultaneously. Hence, we can understand that dialogic reading strategies are supporting study techniques which drastically improve the student's ability to read a book; as a result, they improve their understanding about the world.
What Is A Dialogic Reading Approach?
It is an approach used to explain the prompts and questions in dialogic reading. There is an approach called PEER that is used to describe the dialogic reading. Following are the points which describe the acronym PEER.
Here P stands for prompt which means prompting the children about the book on which they are supposed to say something about the text or a book.
E stands for evaluation, meaning evaluation about the response given by the students on the particular text.
Again E stands for expand means expanding the information or the answer by paraphrasing to make it more understandable for the students.
R stands for repetition meaning you need to revise the prompt to see that your children have learnt from the expansion or not.
What Is A Dialogic Reading Lesson Plan?
Dialogue reading lesson plan is basically divided into 3 levels. Following are the points which describe the level1:
Asking what, why, whom, when, where and answering all those questions.
Repetition of those words used in the lesson.
Encouraging and praising the students for whatever they have learnt.
Level 2:
Now asking some questions which are open ended like tell me something more about this paragraph.
Check whether students are repeating the expansion of the prompt.
Teachers should leave the decision of choosing the topic to the students.
Level3:
Asking the questions from the students and trying to relate the lesson story with the student's personal experiences, as result, students would be able to understand the lesson with more clarity.
Motivate and encourage the students to learn the lesson passionately.
What Is Dialogic Reading Speech Therapy?
As technology is getting advanced with globalisation and modernisation, hence, medical science has also been advanced so the children who are born with speech disorders are being cured with dialogic reading speech therapy. Many researches have proven that dialogic reading is helpful for children with language disorder. Nowadays, dialogic reading is used to improve language disorders like resonance disorder, speech disorder, childhood apraxia, receptive disorder, selective autism and or facial myo functional.
What Are The Advantages Of Dialogic Reading?
Every students get admission in next class in order to complete their further studies, however students do lack vocabulary knowledge, hence, the role of dialogue reading has become more significant for those students because dialogic reading is designed in such a way that it can improve the students language as well as vocabulary issue in a scientific manner. That is why a good vocabulary can help students in reading difficult text.
Dialogic reading is helpful in inculcating the learning skills in students. In dialogic reading, teachers have to instruct the students about open-ended questions so that they can understand students' perspective on the topic. Dialogic reading increases the receptive skills in students because this is scientifically designed which can help students learn quickly.
How To Use Dialogic Reading In Class?
For this, teachers use two pronged strategies in their class. The first strategy is when teachers read the advised book in a small group which should not be more than the group of five students. The second strategy is when teachers contact the student's parents which help to improve the reading skills in students.
One on one interaction between students and children helps student's language comprehension skills as a result their vocabulary and comprehension get increased. When parents of students also start using dialogic reading techniques to teach their children at home then students' reading and understanding improves drastically.
What Is The Importance Of Dialogic Reading For The Students?
Dialogic reading is a scientifically designed method for the children to develop their reading skills, particularly; lack of vocabulary is the main problem for the students that are why they cannot understand the difficult text. However, the importance of dialogic reading has become more prominent as it makes students critical in their approach to reading the text. Dialogic reading also makes a student a good listener which helps them in developing their comprehension skills.
Furthermore, the students who are pursuing their studies need to write an assignment so they search on the internet for help with assignment which can write their assignment with the best quality.
Leave a Reply
Your email address will not be published. Required fields are marked *