ILM Level 3 Assignment With Examples
2023-01-28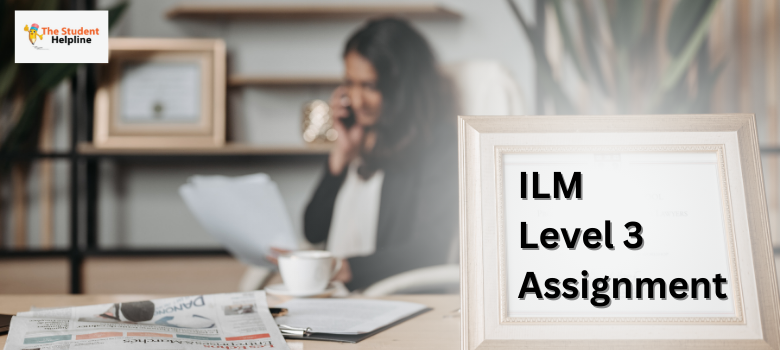 How Can You Write The ILM Level 3 Assignment Impeccably?
Possessing managerial skills that are highly valued by any firm and make handling a variety of issues simpler is essential. Every firm needs someone with strong management abilities who can set you apart from the competition. Therefore, effective managerial skills will help you coordinate properly with your team and provide new heights in your career. To have leadership and management skills, you can pursue a course in ILM which will surely put more spice to your resume. The ILM curriculum helps the students get the most influencing skills so they can easily work in the highest managerial post and have a well-established professional life.
Normally, this course is divided into various levels, such as level 2, level 3, level 5, and level 7. Amongst all these, level 7 is the highest level where you can get the best knowledge and practices in management and leadership skills. Students pursuing their courses in ILM have to deal with various assignments. These assignments need to be submitted in a proper format and structure. In this blog, we only focus on the ILM level 3 program, where we will discuss its assignment work. Also, if there is any issue in dealing with an ILM assignment, then you can reference the most effective ILM level 3 assignment 1 examples. With the help of examples, you can easily frame your assignment by following the methodology and format.
Read About: What Is Talent Management?
What Training Do You Get In ILM Level 3 To Pen Down An Assignment On It?
When you enrol in ILM level 3, you will get the learning and understanding to collaborate with junior managers, supervisors, and managers. It is a very comprehensive level of ILM that targets the managers' training and entrusts you with managerial skills and responsibilities. Apart from this, it will help you get the training as a junior manager seeking a career progression in the management sector. Therefore by the end of this program, you will be equipped with people skills, management skills, leadership skills, and communication skills.
It also opens up your mind to enhance creative skills and innovation as well. Hence, with the help of this diploma program, you will get a ILM certification in leadership and management. In between the semester of this program, a student has to submit all the assignments to demonstrate you skills and knowledge you have again through your curriculum. Hence, further, we will discuss the various assignments and ILM level 3 work-based assignment examples so that you can reference the most useful examples and pen down your assignment perfectly.
Read About: How To Frame A Management Assignment Professionally?
What Are The Guidelines For Completing Your ILM Level 3 Assignments?
The ILM Level 3 assignment 2 examples helps you to enhance the quality since it shows how successfully you completed your task and how you utilized the pertinent information. The creation of assignments and projects with a high content density and the timely submission of assignments to college or university students are both difficult tasks. If you are having any issues writing the assignment, then you can also reference our ILM level 3 leadership and management assignment examples.
It is crucially significant for the students to keep in mind and look up important rules that must be followed when completing tasks. Therefore, to finish your assignment with proper format and structure, you must adhere to a few rules mentioned below.
Text Size: For instance, the word count range for each assignment is 1500-2500 words. This should be a general reference. The assessor may return assignments with excessive word counts before being marked.
Subject and headings: When organizing your project, headers and subheadings are highly helpful for both the reader and the writer since they keep the assignment organized for the writer and provide the reader with a general concept of the structure of the work before actually reading the text. When choosing headers and subheadings, refer to the results and evaluation standards as guidance.
Pictures and Diagrams: Diagrams and drawings can be a helpful addition to the text because they may be very successful at quickly communicating complicated information, and there is a benefit in improving your ability to express information visually. You might not need a commentary on a diagram, but a reader who is seeing it for the first time might.
Body text section: This is the core of your project because it needs to be thoroughly stated, and all of the specifics need to include the question and reasons. Be specific when coding as well. This is one of the most essential parts of the ILM assignment which is mentioned in our ILM level 3 communication assignment examples.
Conclusion: offer a proper conclusion by summarizing all the information and giving the most accurate description of the topic. Your conclusion must be well written and explained so that the reader gets the right outcome and result of your essay topics.
Referencing: You must cite sources properly if you utilize someone else's identical words in your writing. Only use quotations when you believe the author has written something so clearly and effectively that it cannot be better. The Harvard system for citing sources is well-known, and you may obtain instructions for using it online.
These recommendations will help you write ILM level 3 assignments with an authentic format and structure. Following these guidelines and steps will allow you to impress your lecturer. With a proper presentation of writing standards, the reader will receive the correct data and information in the right place, which makes it easy to understand. If you face issues, then you can now effortlessly frame a wonderful assignment on it with the help of our management assignment help services. Our team of writers and experts, who have years of expertise, can guide you to the appropriate websites for in-depth study.
Additionally, you can complete the job accurately. Additionally, we offer the most reasonable costs around, which will not add to the financial strain on your academic career. We offer one-on-one interaction so that you may share all of your documents and input from your university because we have a better grasp of every problem you have.
Leave a Reply
Your email address will not be published. Required fields are marked *