How Are Dissertation Tips Helpful For The Students
2022-05-09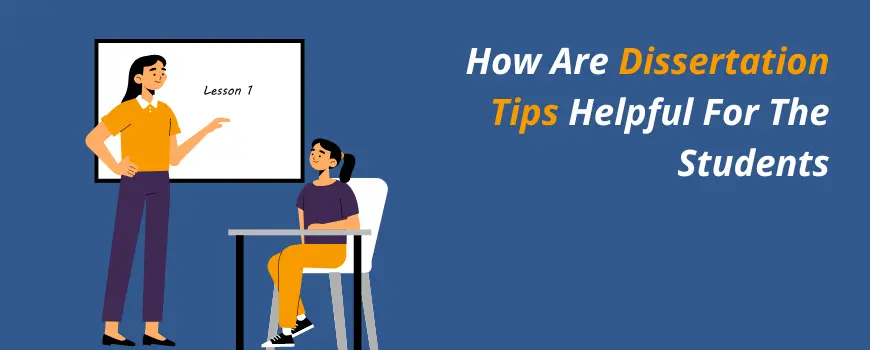 Every student is required to submit a dissertation during the last semester of their graduate studies. Writing dissertation is one of the most difficult tasks as it requires extensive research, excellent writing skills, in-depth knowledge of the discipline/chosen topic and almost a month's time to come up with an immaculate write-up. Owing to the lack of proper guidance coupled with complexity of the task, students need dissertation tips from experts who have significant experience in writing dissertation. If you are one among them then go through the below mentioned tips and prepare a high scoring dissertation by yourself.
Students should start their dissertation early as it is a long document which might create boredom after writing some pages so it is recommended to start early and finish early.
Students should put their arguments strongly in the dissertation writing.
For writing a long-winded document in a short period of time, there is only one way out, keep writing continuously.
Students should devote much time in choosing an appropriate topic as it is one of the most important part of dissertation writing.
If students get stuck while writing a dissertation then they should move ahead for the next section.
In order to write a lengthy dissertation, students should opt for some writing technique. Students need to write 25 minutes continuously then they should take a break; this is useful for reading and writing both.
You should make proper notes of each section which will help you in organising the dissertation.
Students should have an idea as to when they have to stop writing and start reading some more related text and videos to refresh their mind; hence they will be able to get new ideas on that topic.
For crafting the best dissertation, students should maintain their health, for being healthy; you need to get enough sleep.
As no one can multitask at a time, hence students should not multitask while writing the dissertation.
Students should always take a break while writing the dissertation and get back to writing, hence they can easily complete the dissertation without getting bored.
Students should share their ideas with their friends; this is how they can get new ideas on the topic.
What Is The Dissertation Research Process?
For writing the dissertation, students need research methodology to answer the questions. Every study requires a different method. With the help of methodology, students can address the gap in the research. There are some methods used in dissertation writing.
Qualitative Method: This type of research can be elucidated as a market research method that emphasizes on collecting data through interviews, conducting surveys, etc.
Quantitative method

: In this kind of research method, students need to do their research empirically. It is used for checking the authenticity of the theory used in the dissertation writing and it is also used to check the outcome of the dissertation.
What Are The Important Ideas For Dissertation Topics?
Selecting a topic for the dissertation is the most crucial task. Failing to do so may have very unpleasant consequences. Students must opt for the topics on which they already have accrued some learning and further data can be collected through online and offline resources. If you can't find a suitable topic for your dissertation then you can consider one from the below stated topics.
Importance of HR policies.
What are fringe benefits in management?
What is the importance of the economy for a country?
Difference between politics and economics.
Importance of biodiversity for human existence.
What is the importance of cooperative federalism?
What is the importance of the parliamentary system?
What was the reason for the 2nd world war?
How has globalisation impacted the world?
What is the importance of gender equality in the business?
Impact of covid-19 on human lifestyle.
How did social media impact youth lifestyle?
What is the benefit of robots to human beings?
What Is The Criterion Of Dissertation Assessment?
As every student needs to write a dissertation to pass their higher studies, most students do not know the basic evaluation criteria through which their dissertation passes. With the help of a few ideas students can get an insight on dissertation assessment.
On the basis of dissertation title, dissertations are evaluated.
The methods used to describe the dissertation are also a base of dissertation evaluation.
Your findings of dissertation are also the base of dissertation assessment.
With the help of previous studies, dissertations are written and these are also used as the base assessment.
What Are The Most Probable Mistakes In Dissertation Writing?
Many times it is seen that students commit various mistakes while writing their dissertation so here are some important points that can be considered to avoid such mistakes.
Students should avoid the use of too much journal.
Students should use the probing technique in gathering information.
Good research must be conducted before writing the dissertation.
Students should start writing as early as possible.
Since dissertation plays a vital role in passing a degree with flying colours thus students intend to leave no stone unturned to submit a top-notch dissertation, which in turn propels them to seek for best dissertation help services. Students are not aware of the basic parameters to evaluate credibility of the dissertation writing services and get stuck with substandard writing agencies that is why students are advised to check the social media reviews posted by real customers to avoid any trouble in the future. Students should also check the customer service of the writing agency as the process is not just limited to delivery, you may also need amendments as per your professor's feedback. Hence, always check the ratings and feedback regarding the services that had been offered to the previous clients and then proceed to avail the services.
Leave a Reply
Your email address will not be published. Required fields are marked *